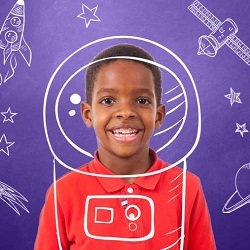 Did you know that September is Big Brothers Big Sisters Month in Canada? A Big Brother or Big Sister can help a young person succeed at school, in social relationships, and at home. Mentoring programs improve academic achievement and avoid risky behavior, helping children lead happy, healthy lives. Mentoring is critical to a child's brain development, educational success, mental and physical health, employment readiness, and community engagement. Students who meet regularly with their mentors are 52% less likely to skip a day of school, and young adults who had mentors as kids are 63% more likely to have post-secondary education.
We are asking Canadians to imagine a world with more self-esteem and less bullying; to imagine a world where young people are reminded they can be anything they can dream of. They can be a part of creating that world. When a child has a mentor, the odds they will be emotionally, socially, and physically healthy increases dramatically. And when we have happy, healthy young people in our communities, everyone benefits. Mentoring is a two-way relationship with benefits for mentors and mentees; people who volunteer are happier, healthier and more satisfied with their lives.
The colour purple, the signature colour of Big Brothers Big Sisters, communicates wisdom, mindfulness, and visionary thinking that points us toward the future. Our future is youth, and celebrating this month reminds us that mentoring changes young lives for the better.
Thousands of young Canadians are waiting for someone to believe in them. Volunteer today! Imagine who they will become because of you! #ImagineBBBS