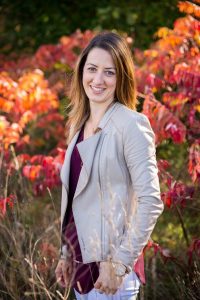 June's Spotlight Volunteer is Sheena Holzamer!
Sheena works at SunLife Financial and has been volunteering with BBBSG in the Big Bunch program since September 2017. When she is not at work you can find her spending time cooking, and having fun with her step kids, significant other and four fur babies.
"I originally wanted to volunteer due to needing volunteer work for a career I was chasing, but then it became something more valuable," Sheena said. "I saw the joy it brought to the kids and myself."
Sheena reflected on the significance of mentoring and said that mentoring to her is teaching children new things, helping them evolve, grow and become more confident in themselves. Sheena has certainly put this into practice with one particular child in her group.
"I have had one [child in my group] bloom like a flower so much," she said. "When I first meet her, she was so shy, she was in the group with another sibling as well and they would often butt heads. I also noticed she was a bit dependent on her sibling to 'help' her or make her feel more comfortable. When the sibling moved on she became more open.
"She was so confident and was a much warmer young girl. She was far more vocal and interactive with other kids and the volunteers of the group."
This child named Sheena as her favourite group volunteer, and they have built quite the bond. Because of this connection, Sheena is very in tune with this child's needs and challenges, and works hard to support her.
"The Big Bunch program is so unique and I really enjoy being able to teach the kids new things, how to work as a team and just have fun," she said. "I really enjoy the group atmosphere as there is a consistency to who you have (in your group) and you get to interact with so many kids, but also have the ability to meet new ones, as the Littles move on or get matched."
Sheena said that some of her favourite memories with the group is all of the creative and crafty projects and activities they have done together, including a really fun outing making their own pinch pots at Play with Clay as well as the annual holiday party every year.
"I really enjoy the happiness that creativity brings to the kids."
Sheena hopes that the children remember the experiences and activities in the group for years to come.
We are so appreciative of Sheena, for her gift of mentorship, and her commitment to us. Thank you for all you do, Sheena. We are glad you are on our team!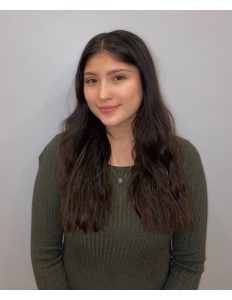 May's Spotlight Volunteer is Lupita Reyes!
Lupita is currently studying Neuroscience with a minor in Psychology at the University of Guelph. It was in one of her classes that she first became aware of the In-School Mentoring Program. Lupita explains, "I remember hearing about BBBS from a guest speaker in my second year. Right away, I knew that I wanted to get involved. I loved the idea of potentially being able to help someone who was really in need of support. I also love working with children, and I have a strong passion for mental health and wellbeing, so it really did feel like a perfect opportunity. I have done a lot of volunteering in the past, but no placement has ever felt as personal as this one."
Lupita reflected how much she benefitted from mentors in her own life as well, which motivated her to want to provide that to someone else: "Being the youngest of 4 children, I was always the mentee and not the mentor. I highly valued what my siblings were able to teach me, so I wanted to put that forward and use what I had learned to help someone with whatever they needed."
Lupita was matched to a student who was experiencing a lot of challenges in her life, including struggles with mental health and self-esteem. This mentee had a lot of difficulties making friends and relating to other people, and therefore spent a lot of time at school alone. Lupita accepted the challenge right away and was able to be compassionate and understanding to where her mentee was coming from. Lupita notes, "I remember when we first began to meet, there was a lot of silence and resistance".
However, Lupita recognized the struggles her mentee was experiencing and was patient while her mentee built trust with her. Lupita explains, "I maintained a positive attitude, and just allowed her to guide the meetings. Before I knew it, we would spend the whole hour just talking about whatever she wanted to discuss that day." To Lupita, mentoring is about building a relationship with a mentee. She expanded by saying, "It's about starting from essentially, zero, and growing together. It's about listening to your mentee's needs, and allowing that to direct what you would like them to get out of the whole experience."
Over the course of just one school year, through Lupita's support and care, Lupita's mentee completely opened up to her. Lupita's mentee told her Caseworker that she feels like Lupita understands her in a way that others don't, and expressed just how much she appreciates having someone to talk to who "gets" her. Lupita has also noticed a difference in her mentee, saying "She also began to start talking more positively about her future, which was a huge step in my eyes. […] I remember her principal pulling me aside one day to tell me that he was really starting to [notice] a change in my mentee. It was then that it was clear to me that I wasn't the only one seeing her growth, but that her peers were as well."
Lupita noted that her favourite part of this experience has been seeing her mentee grow, saying "It's very rewarding to see that the time you've spent together was valuable, and is ultimately helping them for the better. It really does feel like you've gained a little sister/brother."  Lupita reflected how one favourite memory was seeing her mentee become engaged and motivated in school in a way she hadn't been before: "It was a lot of fun, and it was a day that I really saw a lot of growth. I remember just laughing and joking around, which made doing school work a lot more enjoyable."
What would Lupita tell someone who was interested in volunteering as a mentor? "If you're interested I would highly recommend BBBS! It is an incredible opportunity to personally get to know someone, and help them. Not only will you see a change in their life, but I promise you will also see a change in yours."
Thank you Lupita for all you have added to your mentee's life. We appreciate you!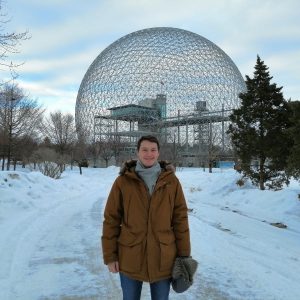 April's Spotlight Volunteer is Eugenio!
Our April Spotlight Volunteer is Eugenio!  Eugenio joined the school-based group programs in January.  He was looking for an opportunity to be involved in his community just as he had been in his home country in Mexico. Eugenio describes himself as "a person that enjoys getting involved in the community and helping out in ways that contribute to positive impacts."
Eugenio is currently studying finance and looking forward to having a positive impact in the lives of the children and youth in Guelph. He describes mentoring as "a way to guide youth to be active and contributing to the well being of their community."
Eugenio is a ray of light who always greets mentees and others with a big smile. Eugenio's favourite parts of mentoring is "understanding where a mentee wants to go and what they want to achieve." He is witnessing the development of the mentees as they make friends and build community with their peers. He enjoys sharing his knowledge of sustainable business practices, his passion for cooking and nature with the mentees. When asked what his favourite part of his group is, he highlighted the energy his mentees had each week that they were not able to contain.
The SBG team has loved having Eugenio in groups and the warmth he brings. We asked Eugenio if he had any advice for someone interested in getting involved as a volunteer, he said "It is a great way to get involved in the community and get to know people with similar interests as yours."
Thank you, Eugenio! We are #BiggerTogether
March's Spotlight Volunteer is Jaidyn McCrae!
Our March Spotlight Volunteer is Jaidyn McCrae Wilson! Jaidyn is in her third year of a Bachelor of Arts program at the University of Guelph and is currently involved in her second school based girls group with Big Brothers Big Sister Guelph.  Jaidyn meets with her group of girls weekly to play fun games and participate in discussions; all while building truly meaningful relationships. Her favourite part of volunteering within a group setting is getting to see how excited the kids are for their weekly program. Jaidyn really enjoys being a part of something that the students enjoy and look forward to every single week. One of the reasons why Jaidyn started volunteering with us is because she is so passionate about making connections with youth in her community in a fun and engaging way. She really values her group and works to create a space where everyone feels safe, involved, and actively a part of the group setting. Jaidyn really focuses on building strong, genuine relationships with her mentees.
"I thought volunteering with Big Brothers Big Sisters of Guelph would be the perfect opportunity to get involved in the community while making a difference in kid's lives. It truly has been one of the best experiences I've had! It's a really rewarding program that's fun and engaging! I would definitely recommend this to anyone looking to get a little more involved with their community."
Jaidyn has been a very positive figure to the girls participating in school group programs and we appreciate her very much!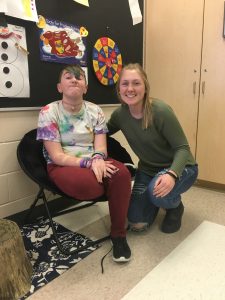 February's Spotlight Volunteer is Mackenzie Lee!
February's Spotlight Volunteer is Mackenzie Lee. Mackenzie has only been with her Little for about 3 months so far, but these two have already built a trusting relationship in which they can talk about a myriad of subjects together.
Mackenzie is an excellent listener who actively works to encourage her Little – especially in the area of their artistic talents. UNO is a favourite game with these two, but no matter what game they end up playing, warmth, connection, and support are always what Mackenzie brings to the forefront. We are #BIGGERTOGETHER with Mackenzie part of our team!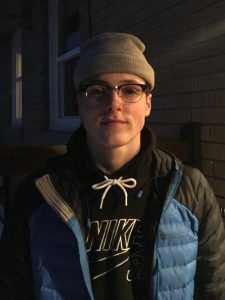 January's Spotlight Volunteer is Wesley Hayhurst!
January's Spotlight Volunteer is Wesley Hayhurst. Wesley is a highschool co-op student who is doing his co-op at Big Brothers Big Sisters. For his co-op, Wesley goes to a local elementary school every day and spends time with eight students for an hour individually throughout the week. He plans activities specific to their interests and is building a meaningful mentoring relationship with each student.  Wesley's co-op has been particularly impactful because he has been matched with some mentees who are incredibly similar to the person he was in elementary school.
One reason Wesley wanted to do his co-op at Big Brothers Big Sisters is because he understands the importance of mentorship and an older person with life experience speaking wisdom into a younger person. This understanding is one of the reasons why Wesley's relationships with his mentees have been so impactful. Wesley is able to relate in a very real way with some of his mentees and encourage them in their decision making moments, to make good choices; Wesley has had some very genuine conversations about life decisions with his mentees and this has been incredibly meaningful to them as they act on and respond to his words!
Wesley has used sports to connect with a number of his mentees. Through physical activity, Wesley is role modeling healthy competition and good sportsmanship. He has provided opportunities for his mentees to teach him new things from their strengths, and uses sports as a way of encouraging social engagement. While Wesley is naturally inclined to sports, he has also learned about other things important to his mentees such as doing crafts, playing boardgames, and learning about different kinds of guitars. Wesley listens very genuinely to his mentees and cares about the things that are important to them. He has been an incredible mentor this semester and his mentees have really benefitted from his encouragement, wisdom and his ability to connect with them through fun! We appreciate Wesley!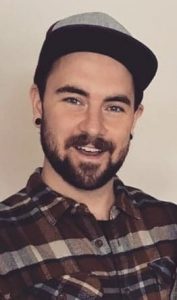 December's mentor of the month is Aaron Naismith!
Aaron started volunteering with our new program, a boy's school-based group in September 2019.  Activate consists of 7 mentoring sessions and is structured around four themes: physical activity, healthy eating, self-esteem, and communication skills.  A new program with new volunteers can have its challenges; however, Aaron jumped right in, running two groups in his first semester, helping Big Brothers Big Sisters offer more groups and support more boys.
Aaron has built meaningful relationships with the boys in his groups while building positive and strong relationships with his co-mentors, school supports, and caseworker. Aaron's dedication to the mentoring role is in the details: taking extra time with the program guide to plan each week, taking time to make connections with each mentee, and finding something special in each child to highlight on the last day.
Thank you Aaron for your passion and interest in helping the children of Guelph. You are a wonderful role model for the mentees you've been matched with and we are looking forward to working with you in future groups.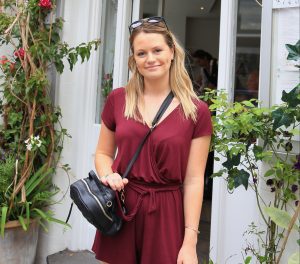 November's mentor of the month is Jess Dinsmore!
Jess has been an In-School Mentor with our agency since January of 2019. She was matched to a mentee who had some significant challenges in their personal life. Jess was able to make her mentee feel comfortable and supported right from their first meeting. As time went on, their relationship grew and her mentee opened up to Jess about all kinds of things. They enjoyed playing a wide range of games together and completed a lot of fun crafts. Her mentee had so much fun that she always wanted their visits to go longer!
Sadly, Jess's mentee moved away unexpectedly over the summer break and they were unable to continue the relationship they had built. However, Jess was more than willing to take on a new match with a child in need. Jess's new mentee has a very different personality from her first one, and struggles a lot more with maintaining positive social relationships. Jess has risen to the challenge and continues to be a positive and supportive mentor for her new mentee. Her mentee looks forward to meeting with Jess and really enjoys the time they spend together.
Jess has been so flexible and adaptable to both of her mentees' needs. She has been patient and understanding of the situations her mentees face. Her friendly demeanour and positive attitude have been huge assets to her mentees. Jess's commitment and dedication despite the challenges she has faced is so appreciated and admired.
Thank you Jess for being a wonderful role model for the mentees you've been matched with!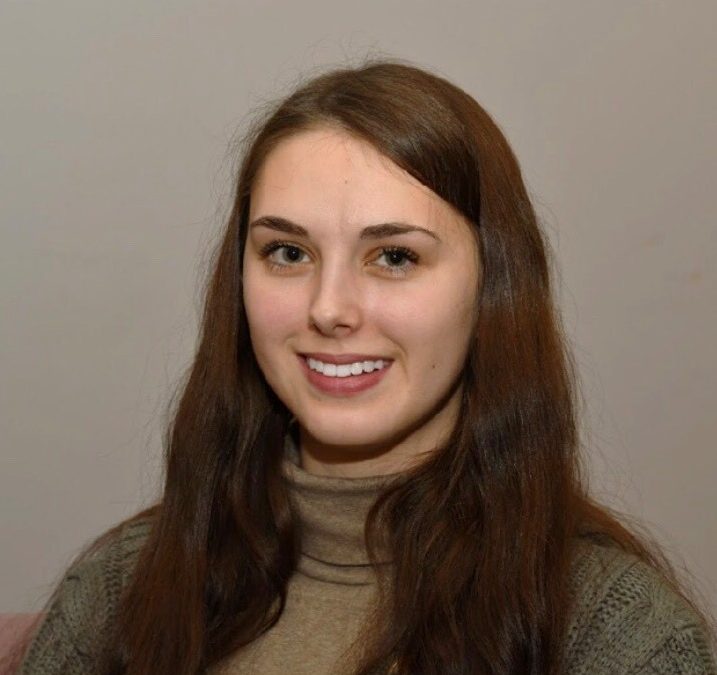 October's Mentor of the Month is Megan McMillan!
Megan has been matched to her mentee since 2016 and they have built an awesome bond despite her mentee moving to three different schools in that time. Megan has continued to be a consistent support for her mentee and has played a crucial role in helping her mentee adapt to her changing environment. Megan has been a friend that her mentee can rely on!
Megan's mentee struggles with a number of different things in her personal life, which has made it harder for her to open up and trust people. Megan has been patient and supportive through the whole process of building trust with her mentee. Now Megan's mentee talks to her about all kinds of things and is learning stronger communication skills.
Megan and her mentee enjoy playing games and doing arts and crafts together. Megan's mentee feels that Megan is "the perfect match" for her and enjoys "everything" about having Megan as a mentor. The school reports how much Megan's mentee looks forward to meeting with Megan every week.
This year, Megan has gone above and beyond in trying to be there for her mentee while her mentee adjusted to the transition into high school. Her mentee was very excited to have a familiar face to help her through the first year of high school and to have someone to talk to.
Thank you, Megan, for your dedication and commitment! It's so appreciated!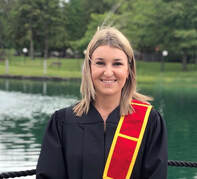 September's Mentor of the Month is Emily Dietrich!
Emily has only been matched with her Little since February of this year, but has been able to build a great relationship in a short amount of time.
Emily's Little Sister is an energetic girl who likes a little bit of mischief and LOTS of sass! This Little loves "everything!" about spending time with Emily. Emily isn't afraid to completely involve herself in matching her Little's level of fun and enthusiasm, and has always been able to take the challenges that come her way in stride.
Leading up to the beginning of this school year, Emily went out of her way to ensure that her match started up again as quickly as possible so that she and her Little could spend as many visits together as they could!
Bigs like Emily are the people who make Big Brothers Big Sisters such an amazing community to be a part of. Our Bigs are channeling the energy that their kids have, and helping them turn it into something POWERFUL!
Thank you Emily – you rock!