Our volunteers — the Big Brothers and Big Sisters who mentor children in our organization — are among the most selfless people you'll ever meet. We cannot overstate our appreciation for their gifts of time, patience, wisdom and leadership. Featured here are just some of the remarkable individuals who are making a difference in the lives of so many children in Guelph.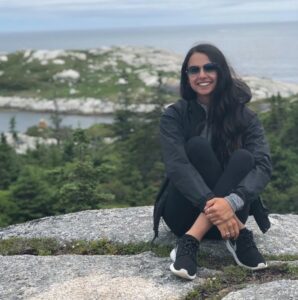 March's Spotlight Volunteer is Ainsley!
Our March Spotlight Volunteer is Ainsley Tsetsekas. Ainsley is in her final semester of the Applied Human Nutrition Program at the University of Guelph and has been volunteering within the site-based group programs at Big Brothers Big Sister Guelph since 2019, as part of our organization's active, three-year partnership with the Ontario Trillium Foundation. Ainsley started volunteering in our school-based group programs and is now involved in leading virtual girls' groups.
Ainsley first got involved with our mentoring programs because of her strong desire to connect with others and help individuals lead a healthy life. She was able to combine her passion for leading an active lifestyle while also helping young girls build up their sense of self-confidence. Ainsley's favourite part about being a group mentor is being able to connect with a diverse group of girls and she loves that each mentee brings something different to the group! Mentoring is very special to Ainsley and she loves seeing the relationships that are able to form between herself and the mentees in such a short period of time.
"I believe the amazing young girls I connect with give me as much guidance as I hope I give them," she said. "If you are thinking about becoming a mentor, don't waste anymore time deciding and go for it! It is a very rewarding experience that has challenged my leadership in ways that I did not anticipate. I feel more connected to the community and I have grown into a confident leader!"
Ainsley has been such a consistent, positive presence to the girls in group and we appreciate all that she does very much!
February's Spotlight Volunteer is Shae-Lyn!
Shae-Lyn has been a volunteer with Big Brothers Big Sisters of Guelph since October of 2019, and she has been a very valuable addition to our agency!
Shae-Lyn began volunteering in our In-School Mentoring program. She was matched with a mentee who had just moved to a new school, and had a lot of difficulty adapting. This mentee was extremely quiet and sombre. Shae-Lyn was warm and welcoming in her approach, and more than happy to carry the weight of their conversations while her mentee became more comfortable opening up. Shae-Lyn demonstrated a great degree of patience and understanding, meeting her mentee where she was at.
"Mentoring to me is a reciprocal relationship. I can serve as a steady support for my mentee, and in return, my mentee is constantly teaching me new things," she said. "I feel that mentoring has made me a more empathetic and understanding person and I thank my mentee for that."
Eventually, Shae-Lyn was able to notice her mentee began continuing conversations and engaging in activities more. Sadly, their relationship had to take a pause due to the COVID-19 school closures, but Shae-Lyn was more than happy to begin a virtual match to help support her mentee during this school year, too. It was uncertain how her mentee would respond in a virtual setting, given how quiet she had been; however, through Shae-Lyn's dedication and friendly approach, her mentee is now really flourishing! She is now engaging in conversation like never before, and really values her time with Shae-Lyn.
Shae-Lyn has truly enjoyed watching this progression take place over time
"My favourite part about being a mentor is knowing that I'm making a difference in my little's life," she added. "I treasure the time we have together each week and have loved seeing my mentee flourish over the last year and a half.
"To any interested volunteers, I would say do it! You won't regret it. Being a part of the BBBSG organization and being able to make a difference in a child's life is so rewarding. The organization provides unparalleled support for volunteers and the lines of communication are always open if you ever need anything."
Thank-you so much, Shae-Lyn. You have made a huge difference and we are so appreciative of your dedication and enthusiasm!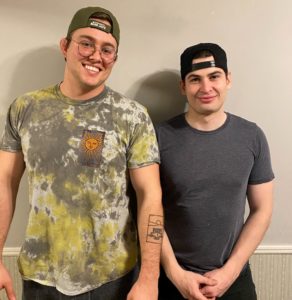 January's Spotlight Volunteers are Gabe and Colin!
Our spotlight volunteers for January are Gabe LePlante and Colin Jamieson. Gabe and Colin are both graduate students at the University of Guelph, and became friends, and roommates during their undergraduate studies. Colin and Gabe started volunteering the Big Bunch program in 2019 and when asked why they wanted to volunteer, they said, "Our friend Dustin already volunteered in the program, and always talked about what a great experience it was. He recruited us to join his 'Bunch' (or group) and we have never looked back!"
Gabe and Colin had only been volunteering for six months when COVID first impacted the program. They were very eager and willing to help in any way needed. What motivated them at this time was knowing how important it was to the kids, and say that that keeps them logging in each week. Gabe and Colin told us that the transition to virtual programming came with its challenges, but making the effort to overcome them, adapt and set a positive example was a way for them to really show the kids that they cared about them.
When asked about their favourite parts of being a mentor they shared, "Forming relationships with the kids is really rewarding. They are really fun and it's so nice to see them interact with us and the kids every meeting." They also shared that they always laugh a lot and end meetings with a smile on their face. Gabe and Colin have worked really hard at this, and parents specifically mention how much their kids like them both.
If Gabe and Colin were sharing with someone else considering becoming a mentor, they would say, "The Big Bunch program is great, especially for students or those with a busy schedule because it allows so much flexibility while allowing you to connect with multiple kids. It is also great because many are more likely to initially join with a friend than alone, and it makes it more fun and convenient. The other benefit of volunteering with a friend is that it can provide more accountability!"
Although the situation of COVID has continued to impact the group programs, Gabe and Colin say that as long as the Littles are still excited to log in for a chat, some games and crafts, they will be waiting on the other side of the screen with a smile!