Thanks for your interest! How would you like to volunteer with us?
We are always looking for volunteers! Our mentoring programs are all volunteer-driven and our mentors are all civic-minded members of our community who volunteer their time. In addition, we have a suite of fundraising events throughout the year which you can help out with!
All of our volunteer training is currently supported by the Ontario Trillium Foundation through their Resilient Communities Fund.

The Process
The order of the steps in the application and assessment process can vary from agency to agency, but the following is a general overview of the process. You, the volunteer applicant:
Completes an application with their local agency
Submits a vulnerable sector screen, criminal records check, and three or four references
Participates in a one-to-one interview with a staff member at the Big Brothers Big Sisters agency
Depending on the program, may be asked to participate in an assessment of their home environment
Successfully completes an orientation and child safety training
Is notified of their acceptance/non-acceptance
If accepted as a volunteer mentor, signs an agreement of confidentiality
Similar to the application and assessment process, the matching process can vary from agency to agency and from program to program, but in general:
The caseworker, now familiar with the volunteer and the children and youth waiting to be matched, discusses a potential match with the volunteer, the child or youth, and, depending on the program, with the family
The caseworker arranges for a meeting between the child or youth, the volunteer mentor, and often the parent or guardian
If everyone agrees, the match can begin!
Frequently Asked Questions
Which program is best for me?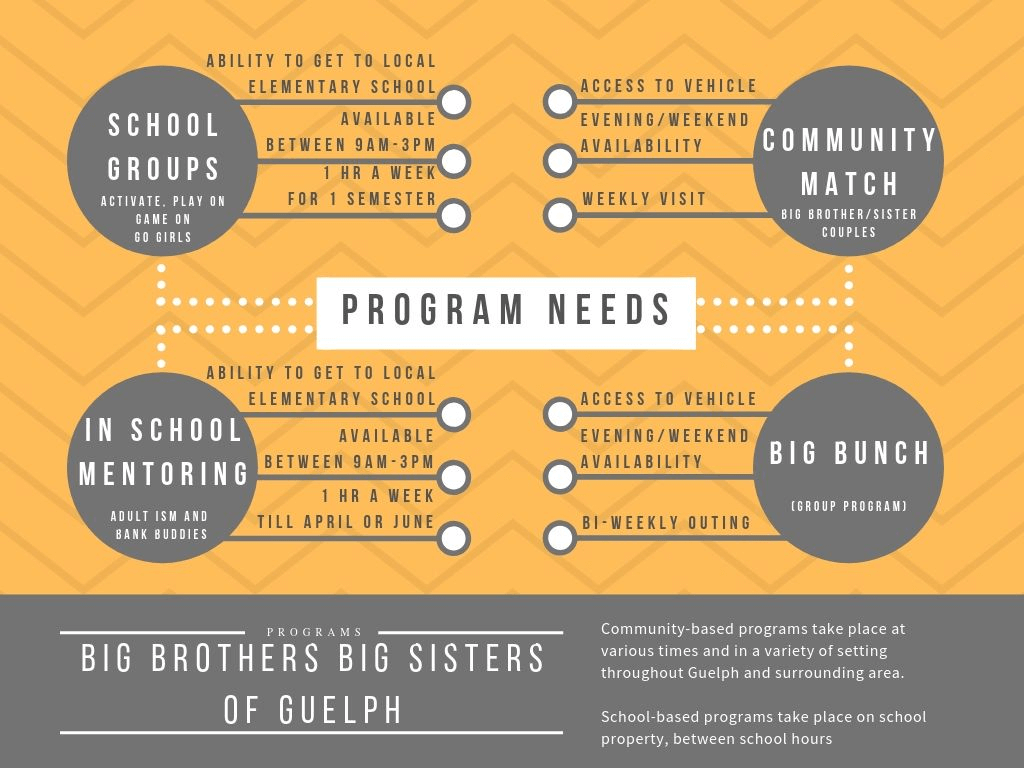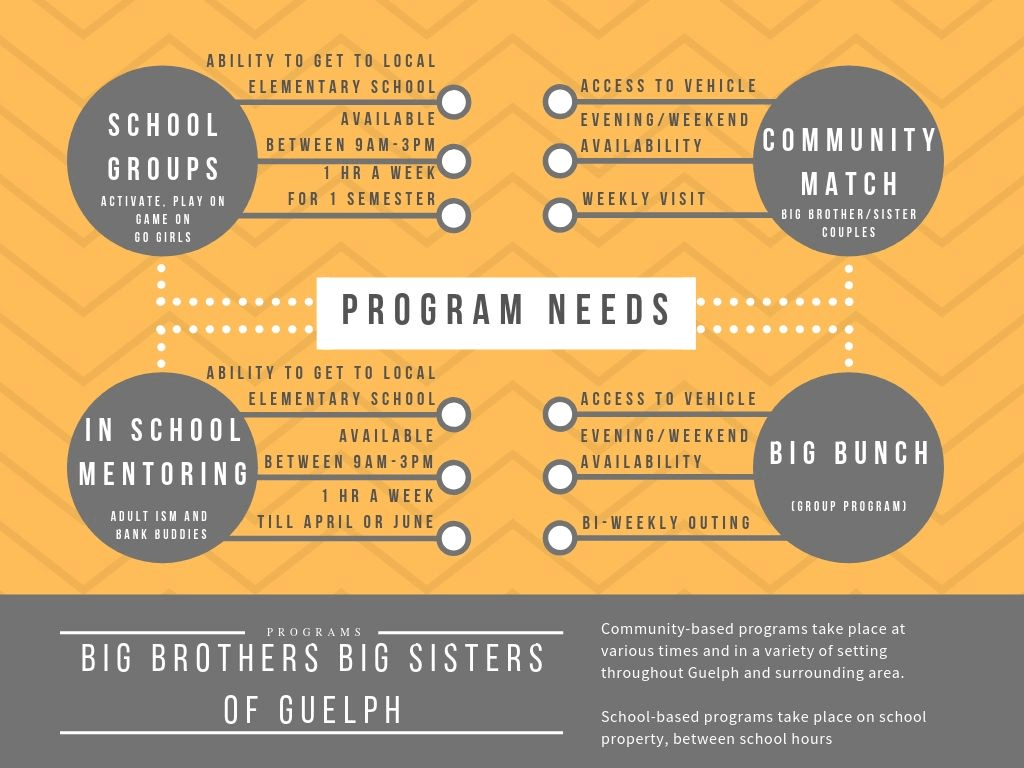 • Our program page has all the program details listed for you. If you have questions about a specific program, please ask below and specify your program of interest.
How do I get involved?
• Go to this link to fill out an application. A caseworker will contact you regarding next steps.
Can I volunteer if I don't have much experience with children or youth?
• Yes! It doesn't take much knowledge or experience to be a friend and a positive role model for a young person. There is a caseworker who is there to offer you support as you learn and connect with your Little or your group.
How long is the application process?
1. Submit an application. We begin to process you as a volunteer.
2. You will be sent Police Check instructions. Apply for a police check right away.
3. A caseworker will call you to set up an interview.
4. You will receive dates for agency trainings. You need to let us know which one you are attending.
5. Once you have attended the training, received a police check and completed the interview process, your caseworker will connect with you regarding your specific program orientation and you will be matched to a Little or group.
Do I need to have access to a car?
• If you want to participate in our 1-1 Big Sister or Big Brother program or our Big Bunch program, you will need a car. However, if you participate in a School-Based program, you don't need access to a vehicle. You just need to be able to get to a local elementary school during the day.
Do I have to be available during the day?
• School Based programs (School Based Groups and In-School Mentoring) require day-time availability.
• Community Based programs (Big Bunch or Big Brother/Sister or a Couples Match) require weeknight or weekend availability.
Can I volunteer if I don't have a consistent schedule?
• Consistency in any relational program is really important. If you don't have a consistent schedule BUT are able to fit your weekly visit into your schedule on different days and be flexible, we will take that into consideration when matching you to a Little.
• For our groups programs, there is less flexibility since there are so many people involved.
How do I get a criminal record check to volunteer?
• We have an amazing relationship with Guelph Police. Once you submit an application, we will send you instructions to acquire a free Record Check if you have a Guelph address. If you live outside of Guelph, we can't guarantee that it will be free but we will provide you with a letter indicating that you are going to be volunteering with us.